Jurnal Ilmiah Advokasi (JIAD) is an academic journal for Legal Studies published by Faculty of Law, Labuhanbatu University. It aims primarily to facilitate scholarly and professional discussions over current developments on legal issues in Indonesia as well as to publish innovative legal researches concerning Indonesian laws and legal system. Jurnal Ilmiah Advokasi published periodically (March and September) in English and Indonesia articles, approved and ready-to-publish manuscripts will also be regularly published in the website (with early view) and the hardcopy version will be circulated at the end of every period.
Jurnal Ilmiah Advokasi (JIAD) Accredited Sinta 4 based on the Decree of the Minister of Research and Technology/National Agency for Research and Innovation of the Republic of Indonesia Number 200/M/KPT/2020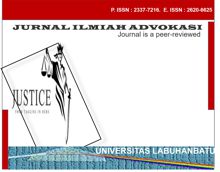 Announcements
No announcements have been published.
Vol 9, No 1 (2021): Jurnal Ilmiah Advokasi
Table of Contents
Articles
| | | |
| --- | --- | --- |
| | Dr Kusbianto, John Simon, Irwanmay Irwanmay | 1-7 |
| | | |
| --- | --- | --- |
| | Heni Widiyani, Pery Rahendra Sucipta, Ahmad Ansyari Siregar, Ayu Efritadewi | 8-18 |
| | | |
| --- | --- | --- |
| | Fathin Abdullah, Prof. Triono Eddy, Dr Marlina | 19-30 |
| | | |
| --- | --- | --- |
| | NURIJAH IBRAHIM, Prof. Triono Eddy, Dr. Mahmud Mulyadi | 31-41 |
| | | |
| --- | --- | --- |
| | Rahmat Surkhalid Nasution, Abdul Hakim Siagian, Didik Miroharjo | 42-51 |
| | | |
| --- | --- | --- |
| | Poriaman Poriaman, Abdul Hakim, Risdalina Siregar | 52-57 |
| | | |
| --- | --- | --- |
| | Zainal Abidin Pakpahan | 58-71 |