Jurnal Ilmiah Advokasi (JIAD) is a peer-reviewed legal journal that provides a forum for scientific papers on legal studies. This journal publishes original research papers relating to several aspects of legal research. Jurnal Ilmiah Advokasi (JIAD) is published two times a year in March and September. This journal really opens door access for readers and academics to keep in touch with the latest research findings in the field of law.
The Scientific Advocacy Journal (JIAD) is accredited with sinta 4 based on the decision of the Minister of Research and Technology/head of the national research and innovation agency number 200/M/KPT/2020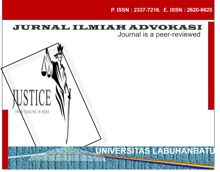 Announcements
No announcements have been published.
Vol 11, No 2 (2023): Jurnal Ilmiah Advokasi
Table of Contents
Articles
| | | |
| --- | --- | --- |
| | Rhendy Ahmad Fauzi | 214-231 |
| | | |
| --- | --- | --- |
| | Ardi Rian Pratama, Tami Rusli, Suta Ramadhan | 232-243 |
| | | |
| --- | --- | --- |
| | Hendu Juartono Purba, Dr. Indra Yudha Koswara | 244-254 |
| | | |
| --- | --- | --- |
| | Janurdi Tirto Utomo, Javier Saviola, Kevin Abel Panjaitan | 255-266 |
| | | |
| --- | --- | --- |
| | Adelia Nur Asshilah, Zainudin Hasan | 267-280 |
| | | |
| --- | --- | --- |
| | Irfan Hanafi, Teuku Syahrul Ansari | 281-290 |
| | | |
| --- | --- | --- |
| | Rajaingat Saragih, Rony Andre Christian Naldo | 291-304 |
| | | |
| --- | --- | --- |
| | Magly Suphyan, Teuku Syahrul Ansari | 305-311 |
| | | |
| --- | --- | --- |
| | Wike Nopianti, Deny Guntara, Muhamad Abas, Adyan Lubis | 312-326 |
| | | |
| --- | --- | --- |
| | Evy Nurinayah, I Wayan Wahyu Anandita, Nyimas Maharani Putri Pertiwi, Berliana Hajariah Maryanti | 327-339 |
| | | |
| --- | --- | --- |
| | Nyimas Maharani Putri Pertiwi, Muhtadi Muhtadi, HS Tisnanta | 340-352 |
| | | |
| --- | --- | --- |
| | Verlia Kristiani, Elfrida Ratnawati Gultom | 353-364 |
| | | |
| --- | --- | --- |
| | Firman Gunawan, Kevin Pramudya, M. Ridwan Ari Hermawan | 365-376 |
| | | |
| --- | --- | --- |
| | Andrito Palipadang, Marwati Riza, Muhammad Ilham Arisaputra | 377-387 |
| | | |
| --- | --- | --- |
| | Rr. Winarti Pudji Lestari, Muhamad Abas | 388-401 |