Jurnal Pembelajaran dan Biologi Nukleus (with the Initials as JPBN) is a scientific journal which shares original articles about research knowledge and the application of the latest research and development in the field of Biology Education and Biology. Published since 2015 & from 2017 has an online edition. This journal managing by the Biology Education Department of Teacher Training & Education Faculty, Labuhanbatu University as a publisher. For information, On July 29th 2019, STKIP Labuhanbatu has merged into the Labuhanbatu University.
Jurnal Pembelajaran dan Biologi Nukleus, published Frequency 2 issues (Twices a year on March & September from 2019), with 2 Focus on Scope field: (1) Biology education (Scope covering is a Curriculum to studies biology, teaching and learning biology, media for learning biology, assessment learning biology, biology learning resources with coverage biology education in elementary school, more preferred in Senior high school, university, etc.) and (2) Biology (Ecology, Genetic, Botani, Physiology etc). Article published is the results of research and systematic literature review. Manuscripts that are not in accordance with the scope will not be considered to be review process. this journal will receive the article English & Indonesian version

DOI Prefix 10.36987 by Crossref; Print ISSN 2442-9481 & Online ISSN 2685-7332; with Editor-in-Chief of JPBN (Ika Chastanti); Editorial Board of JPBN (Khairul & Rivo Hasper Dimenta); Email journal Nukleus@ulb.ac.id;

Indexing by: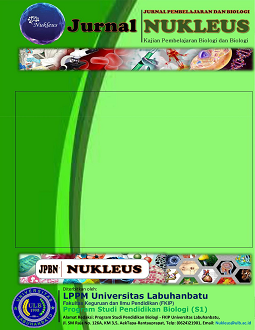 Announcements
Call For Article - Free of APC's (Article Processing Charge)

Publikasi Gratis
Jurnal Pembelajaran Biologi Nukleus (JPBN)
Prodi Pendidikan Biologi, FKIP-Universitas Labuhanbatu
Posted: 2021-11-10
More...
Vol 7, No 2 (2021): Jurnal Pembelajaran Dan Biologi Nukleus September 2021
Table of Contents
Articles
| | | |
| --- | --- | --- |
| | Jamilah Nasution, Riyanto Riyanto | 264-271 |
| | | |
| --- | --- | --- |
| | Anis Hikmatul Maula | 272-278 |
| | | |
| --- | --- | --- |
| | Tarjuriah Tarjuriah, Risma Delima Harahap | 279-288 |
| | | |
| --- | --- | --- |
| | Lilianti Lilianti | 289-295 |