Selamat datang di Portal resmi jurnal elektronik Universitas Labuhanbatu, Rantauprapat, Sumatera Utara. Situs ini adalah media publikasi jurnal dari berbagai bidang yang ada di Universitas Labuhanbatu. Jurnal elektronik ini mempublikasikan artikel baik dari penelitian maupun pengabdian masyarakat. Jurnal Universitas Labuhanbatu dikelola oleh Lembaga Penelitian dan Pengabdian Masyarakat (LPPM) Universitas Labuhanbatu. Untuk informasi lebih lengkap silahkan menghubungi LPPM atau kontak yang tersedia di laman situs masing-masing jurnal
A B C D E F G H I J K L M N O P Q R S T U V W X Y Z All
Journal Computer Science and Information Technology(JCoInT)
Journal Computer Science and Information Technology(JCoInT)
View Journal | Current Issue | Register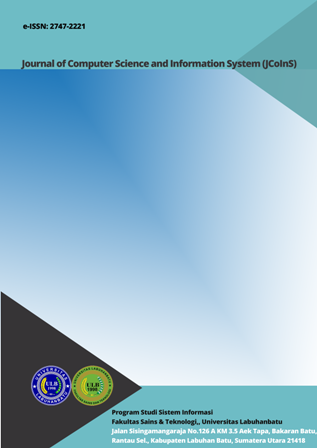 Journal of Computer Science and Information System(JCoInS)
Journal of Computer Science and Information Systems (JCoInS) - Journal of the Information Systems Study Program seeks to facilitate critical study and in-depth analysis of information system problems, this journal is an expert computer science scientist, information system scientist
View Journal | Current Issue | Register
Journal of Student Development Informatics Management (JoSDIM)
Journal of Student Development Informatics Management (JoSDIM)
View Journal | Current Issue | Register
Journal of Student Development Information System (JoSDIS)
Journal of Student Development Information System (JoSDIS)
View Journal | Current Issue | Register
Journal of Student Development Information Technology (JoSDIT)
Journal of Student Development Information Technology (JoSDIT)
View Journal | Current Issue | Register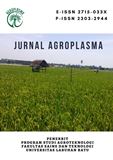 JURNAL AGROPLASMA
Jurnal Agroplasma pertama kali didirikan dengan nama Jurnal Agroplasma STIPER Labuhanbatu tahun 2014 oleh Program studi Agroteknologi, Universitas Labuhanbatu. Jurnal Agroplasma merupakan media publikasi tulisan asli yang berkaitan dengan Agroteknologi secara luas. Melakukan penerbitan dua (2) kali dalam setahun, yaitu setiap bulan Mei dan Oktober.
View Journal | Current Issue | Register
JURNAL BERKALA MAHASISWA
Jurnal Berkala Mahasiswa (JBM) terbit pada bulan Januari, Maret, Mei, Juli, September, November berisi tulisan/artikel hasil penelitian yang ditulis oleh mahasiswa FKIP Universitas Labuhanbatu
View Journal | Current Issue | Register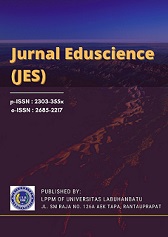 JURNAL EDUSCIENCE
JES : Jurnal Eduscience
is a peer-reviewed journal that is published by
Fakultas Keguruan dan Ilmu Pendidikan (FKIP) of Labuhanbatu University
. This journal publishes biannually in
June
and
December
. This Journal publishes current original research on education studies using an interdisciplinary perspective, especially within Mathematic Education, Biology Education, Civic Education, Science Education, Physics Education, and all about teaching and learning reseachs.Reviewers will review any submitted paper. The review process employs a double-blind review, which means that both the reviewer and author identities are concealed from the reviewers, and vice versa.
p-ISSN : 2303 - 355x e-ISSN : 2685 - 2217
View Journal | Current Issue | Register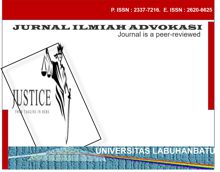 JURNAL ILMIAH ADVOKASI
Jurnal Ilmiah Advokasi (JIAD) is an academic journal for Legal Studies published by Faculty of Law, Labuhanbatu University. It aims primarily to facilitate scholarly and professional discussions over current developments on legal issues in Indonesia as well as to publish innovative legal researches concerning Indonesian laws and legal system. Jurnal Ilmiah Advokasi published periodically (March and September) in English and Indonesia articles, approved and ready-to-publish manuscripts will also be regularly published in the website (with early view) and the hardcopy version will be circulated at the end of every period.
The Scientific Advocacy Journal (JIAD) is accredited with sinta 4 based on the decision of the Minister of Research and Technology/head of the national research and innovation agency number 200/M/KPT/2020
View Journal | Current Issue | Register
JURNAL MAHASISWA AGROTEKNOLOGI (JMATEK)
JURNAL MAHASISWA AGROTEKNOLOGI (JMATEK) merupakan jurnal online yang diterbitkan oleh Program Studi S-1 Agroteknologi, Fakultas Sains dan Teknologi, Universitas Labuhanbatu. Jurnal ini terbit dua kali dalam setahun (Februari dan Agustus) memuat hasil-hasil penelitian di bidang pertanian.
View Journal | Current Issue | Register
Jurnal Manajemen Akuntansi (JUMSI)
Jurnal Manajemen Akuntansi (JUMSI)
View Journal | Current Issue | Register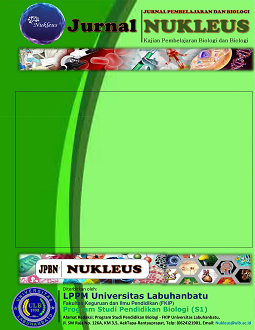 JURNAL PEMBELAJARAN DAN BIOLOGI NUKLEUS
Jurnal Pembelajaran dan Biologi Nukleus (with the Initials as JPBN) is a scientific journal which shares original articles about research knowledge and the application of the latest research and development in the field of Biology Education and Biology. Published since 2015 & from 2017 has an online edition. This journal managing by the Biology Education Department of Teacher Training & Education Faculty, Labuhanbatu University as a publisher. On July 29th 2019, STKIP Labuhanbatu has merged into the Labuhanbatu University.
Jurnal Pembelajaran dan Biologi Nukleus,
published Frequency 2 issues (Twices a year on
March & September
from 2019), with a focus on scope field:
Biology education
(
Scope
covering is a Curriculum to studies biology, teaching and learning biology, media for learning biology, assessment learning biology, biology learning resources with coverage biology education in elementary school, more preferred in Senior high school, university, and society)
and
Biology
(Ecology, Genetic, Botani, Physiology etc). Article published is the results of research and systematic literature review. Manuscripts that are not in accordance with the scope and not English version will not be considered to be published. We also discourage manuscripts written by a single author. DOI Prefix 10.36987 by Crossref; Print ISSN
2442-9481
& Online ISSN
2685-7332
; Editor-in-Chief of JPBN (
Ika Chastanti
); Editorial Board of JPBN (
Khairul
&
Rivo Hasper Dimenta
); Email journal
Nukleus@ulb.ac.id
; Indexing by
Google Scholar
|
GARUDA
|
Crossref
|
Moraref
|
Indonesia One Search
|
Dimension
|
BASE
View Journal | Current Issue | Register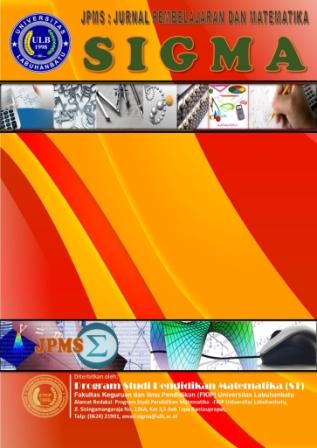 JURNAL PEMBELAJARAN DAN MATEMATIKA SIGMA (JPMS)
Jurnal Pembelajaran dan Matematika Sigma (JPMS) diterbitkan oleh FKIP Universitas Labuhanbatu program studi pendidikan matematika yang berisi tulisan/artikel hasil pemikiran dan hasil penelitian yang ditulis oleh para pakar, ilmuwan, praktisi, pengkaji, guru, dosen dan mahasiswa. JPMS adalah publikasi interdisipliner dalam disiplin ilmu pendidikan berupa penerapan model pembelajaran, model pembelajaran matematika, penerapan teori-teori matematika, serta kajian teori dalam lingkup matematika, dan lainnya. 
JPMS terbit pada bulan Mei dan Nopember setiap tahun.
The Sigma Learning and Mathematics Journal (JPMS) published by the FKIP Labuhanbatu University mathematics education study program contains writings/articles on the results of thoughts and research results written by experts, scientists, practitioners, reviewers, teachers, lecturers and students. JPMS is an interdisciplinary publication in educational disciplines in the form of learning models, mathematics learning models, as well as theoretical studies in the scope of mathematics, and others. JPMS is published in May and November every year.

ISSN : 2685-5585 (Online)
ISSN : 
24
60
-
593X (Print)
View Journal | Current Issue | Register
1 - 13 of 13 Items