Jurnal Pembelajaran dan Matematika Sigma (JPMS) diterbitkan oleh FKIP Universitas Labuhanbatu program studi pendidikan matematika yang berisi tulisan/artikel hasil pemikiran dan hasil penelitian yang ditulis oleh para pakar, ilmuwan, praktisi, pengkaji, guru, dosen dan mahasiswa. JPMS adalah publikasi interdisipliner dalam disiplin ilmu pendidikan berupa penerapan model pembelajaran, model pembelajaran matematika, penerapan teori-teori matematika, serta kajian teori dalam lingkup matematika, dan lainnya. JPMS terbit pada bulan Mei dan Nopember setiap tahun.
The Sigma Learning and Mathematics Journal (JPMS) published by the FKIP Labuhanbatu University mathematics education study program contains writings/articles on the results of thoughts and research results written by experts, scientists, practitioners, reviewers, teachers, lecturers and students. JPMS is an interdisciplinary publication in educational disciplines in the form of learning models, mathematics learning models, as well as theoretical studies in the scope of mathematics, and others. JPMS is published in May and November every year.

ISSN : 2685-5585 (Online)
ISSN : 
24
60
-
593X (Print)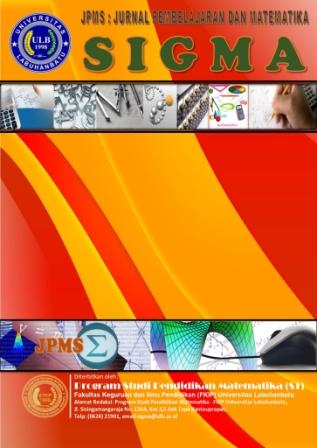 Announcements
No announcements have been published.
Vol 6, No 2 (2020)
Table of Contents
Articles
| | | |
| --- | --- | --- |
| | Muliana Muliana, Nuraina Nuraina | 41-46 |
| | | |
| --- | --- | --- |
| | Majidah Khairani Siregar, Dian Febrinal | 47-51 |
| | | |
| --- | --- | --- |
| | Endro Tri Susdarwono | 72-84 |
| | | |
| --- | --- | --- |
| | Sri Endangsih, Indah Fitria Rahma | 85-92 |